STAFFORD ECONOMIC DEVELOPMENT & TOURISM
WHAT'S NEXT | JUNE 2021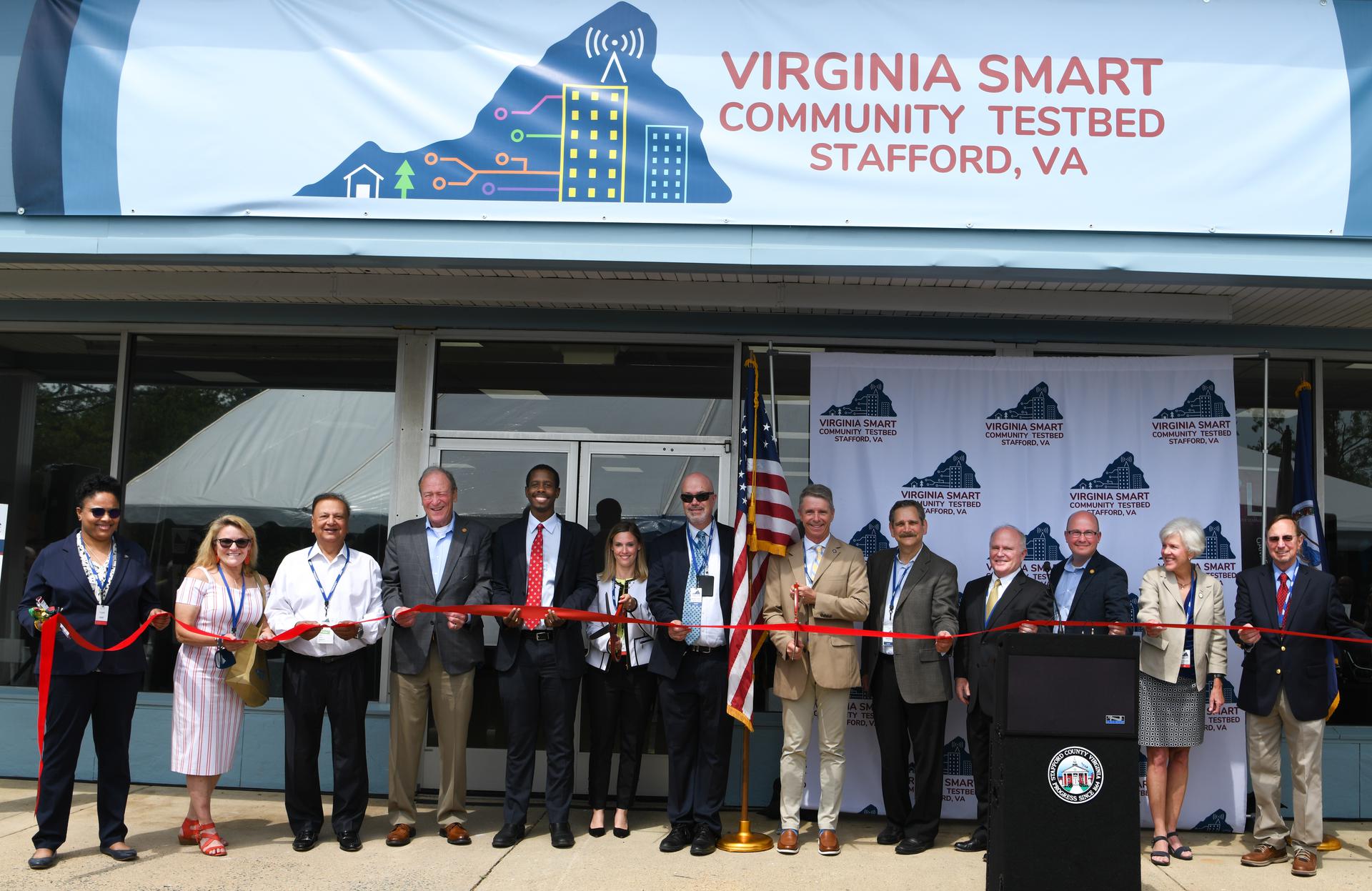 STAFFORD WELCOMES THE COMMONWEALTH'S NEW VIRGINIA SMART COMMUNITY TESTBED
Stafford County and the Center for Innovative Technology (CIT) held a ribbon-cutting ceremony Tuesday, May 25th, to formally establish the opening of the new Virginia Smart Community Testbed. The Testbed, located next to the Stafford Government Center at 2143 Jefferson Davis Hwy, is the first of its kind in the Commonwealth. Testbeds are a way of testing new technologies in a real-world setting, a method that drives faster innovation. This Testbed will help propel both Stafford County and the Commonwealth to the forefront of smart community technology adoption across the country and the world. It will be a place for testing "smart tech" and for entrepreneurs to develop their technologies. Take the time to explore our new Smart Stafford webpage on other Smart Stafford initiatives.
SEE VIDEO BELOW to watch the Ribbon Cutting Ceremony
Welcome Back—almost. I want to welcome you back as we all do our part in vaccinations and coming back to offices. There is still much to do to assist and recover from the Pandemic. We have recently secured participation by 50 restaurants in our Stafford Cares Project, funded by a Community Development Block Grant. We will now begin to distribute 7,600 meal cards to 3,800 families in need in Stafford County. These families will be able to buy a meal from a local restaurant and, we hope, become a regular customer.
We will be announcing new programs and events—yes, in person events, to encourage business networking and entrepreneurship in the coming weeks and months. As we "come back," we will be launching a new entrepreneurial development program and "accelerator" program with our friends from RIoT, hosted in the Virginia Smart Community Testbed in Stafford. These will be in-person and based on the needs of our entrepreneurial ecosystem—as we discussed at Project Next. This is just the start; later in 2021, the Stafford EDA will be launching the Veterans Business Bootcamp 2.0 and a series of Stafford business networking events, and more.
As we "welcome back" colleagues to offices, and I do believe we will do that more and more, keep in mind that we can direct you to the newest and best spaces for your company. Each newsletter we highlight available spaces, such as the Riverside Business Park.
We also like to highlight local Stafford businesses, and this time we'd like to give a special thanks to The Grounds Coffeehouse. The Grounds provided coffee for the opening of the Testbed. Thank you Debbie, and I encourage all to consider a cup-of-joe at the Grounds Coffeehouse. Below, you will also learn more about our EDA and another new business who joined the Stafford business community.
This past month, we also welcomed back Chad Hoover, the owner of Kayak Bass Fishing for two back-to-back tournaments. Chad and east coast anglers have found Stafford to be rich in opportunity for kayak fishing and we look forward to new opportunities to work with Chad. Remember, there is so much to explore off of Route 1 and I-95 corridor in Stafford—places to explore, walk, hike, fish, golf, eat, and drink.

Stafford County is about connecting. Networking. Learning. Innovating. And, in my humble opinion, humans do that in person. Be safe, and be proud and happy we are coming out of the Pandemic.
Sincerely,
John Holden, Director
Economic Development & Tourism
VETERANS BUSINESS BOOTCAMP 2.0 - COMING FALL 2021!
The Stafford County EDA is proud to announce the Veterans Business Bootcamp will be back this Fall! In partnership with the UMW Small Business Development Center, this Bootcamp 2.0 will cover deeper details and insights into business development including the business mindset, human resources, and government contracting.
Sponsorship opportunities are now available for this event. If you are a local business looking to support Veteran Entrepreneurs, please contact Linzy Browne by email at lbrowne@staffordcountyva.gov.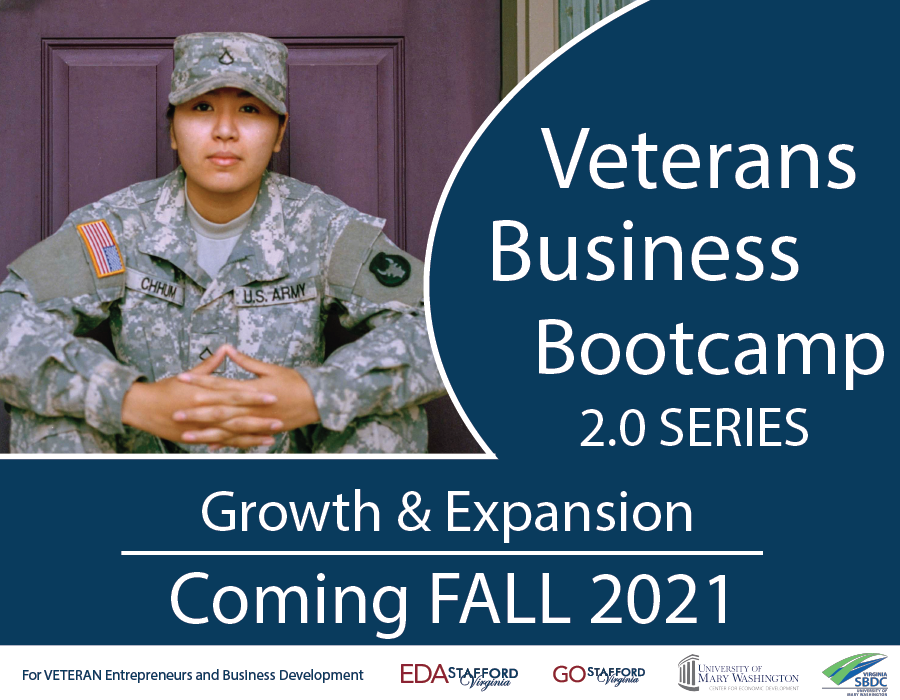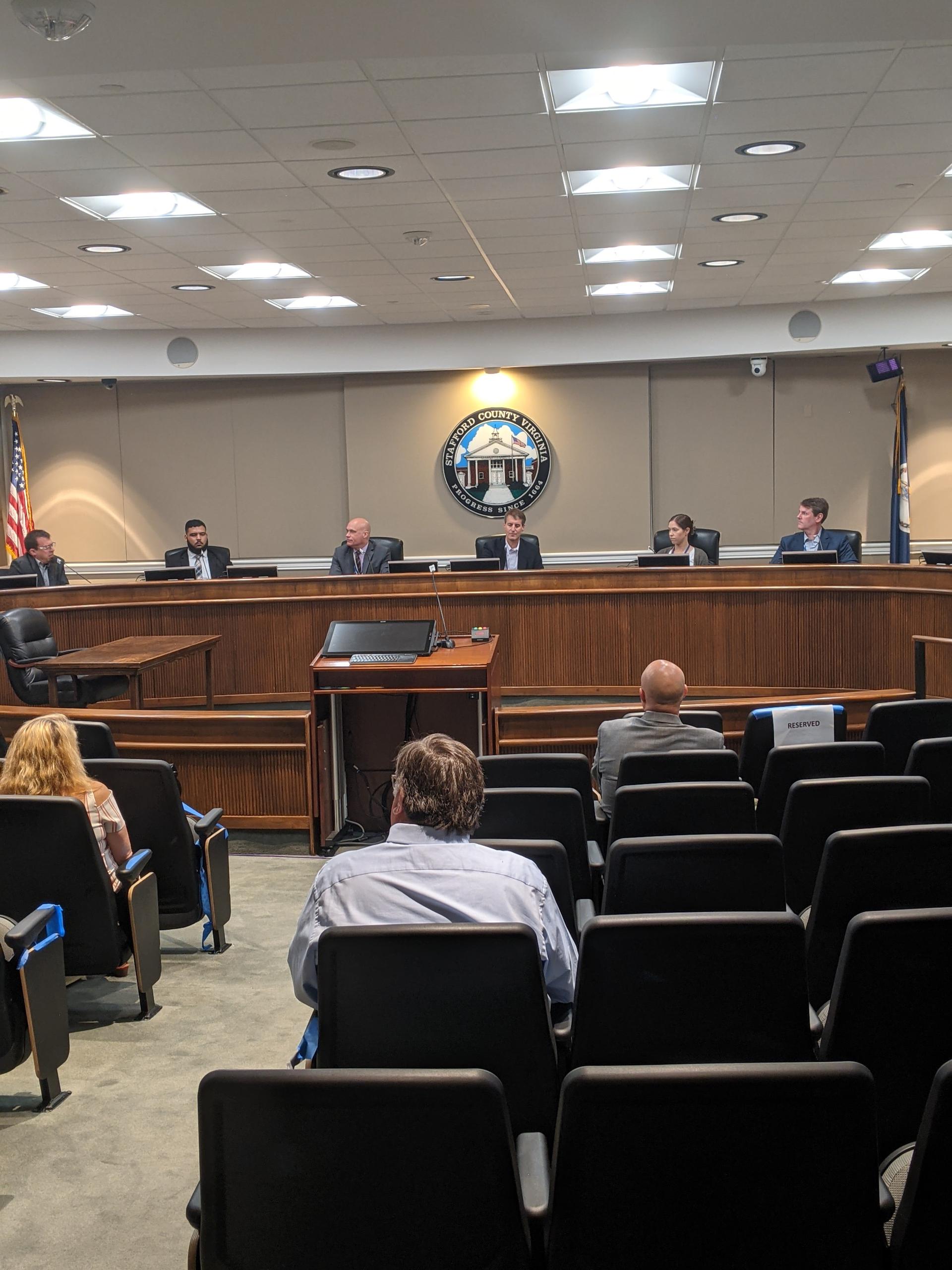 Thank you for joining us for Project Next, the latest event of our Entrepreneurial Ecosystem Development and Discovery grant with Go Virginia and regional partners.
This event included special guests and keynote speakers Glenn Ricart, Founder and CTO of US Ignite, and Scott Turnbull, Director of Technology for US Ignite. US Ignite is a national nonprofit that helps accelerate the smart and connected communities' movement. Following keynote speakers was a panelist discussion among regional Economic Development Directors including: John Holden of Stafford County, Nick Minor of King George County, and Bill Freeling of Fredericksburg who shared what's Next for the region.
With support from regional partners and RIoT, we continue to expand regional support for entrepreneurs and startups. Stay involved with Stafford's Smart Technology initiatives, our Entrepreneurial Development programs, and stay engaged with us on social media.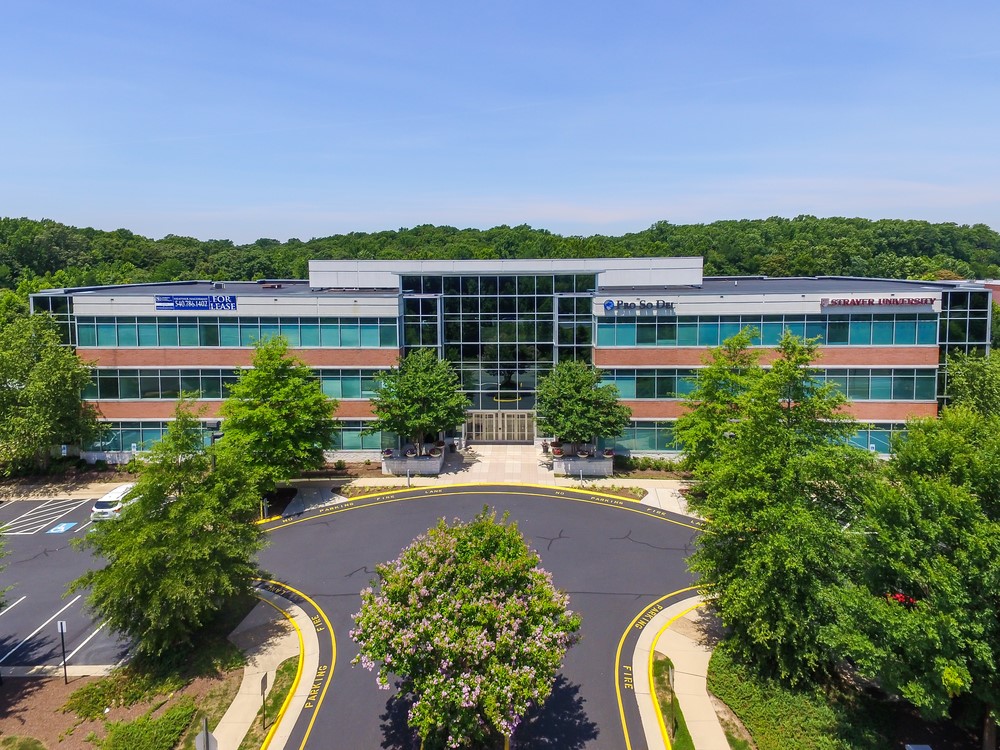 RIVERSIDE BUSINESS PARK - JEFFERSON BUILDING
150 Riverside Pkwy, Fredericksburg, VA 22406, Stafford County
The Jefferson Building at Riverside Business Park in south Stafford is available for lease. This three-story Class A office building has 75,300 SF available with office sizes ranging from 1,121 - 7,041 SF.
This is a prime location with direct visibility from Interstate-95 and halfway between Washington, DC and Richmond, VA.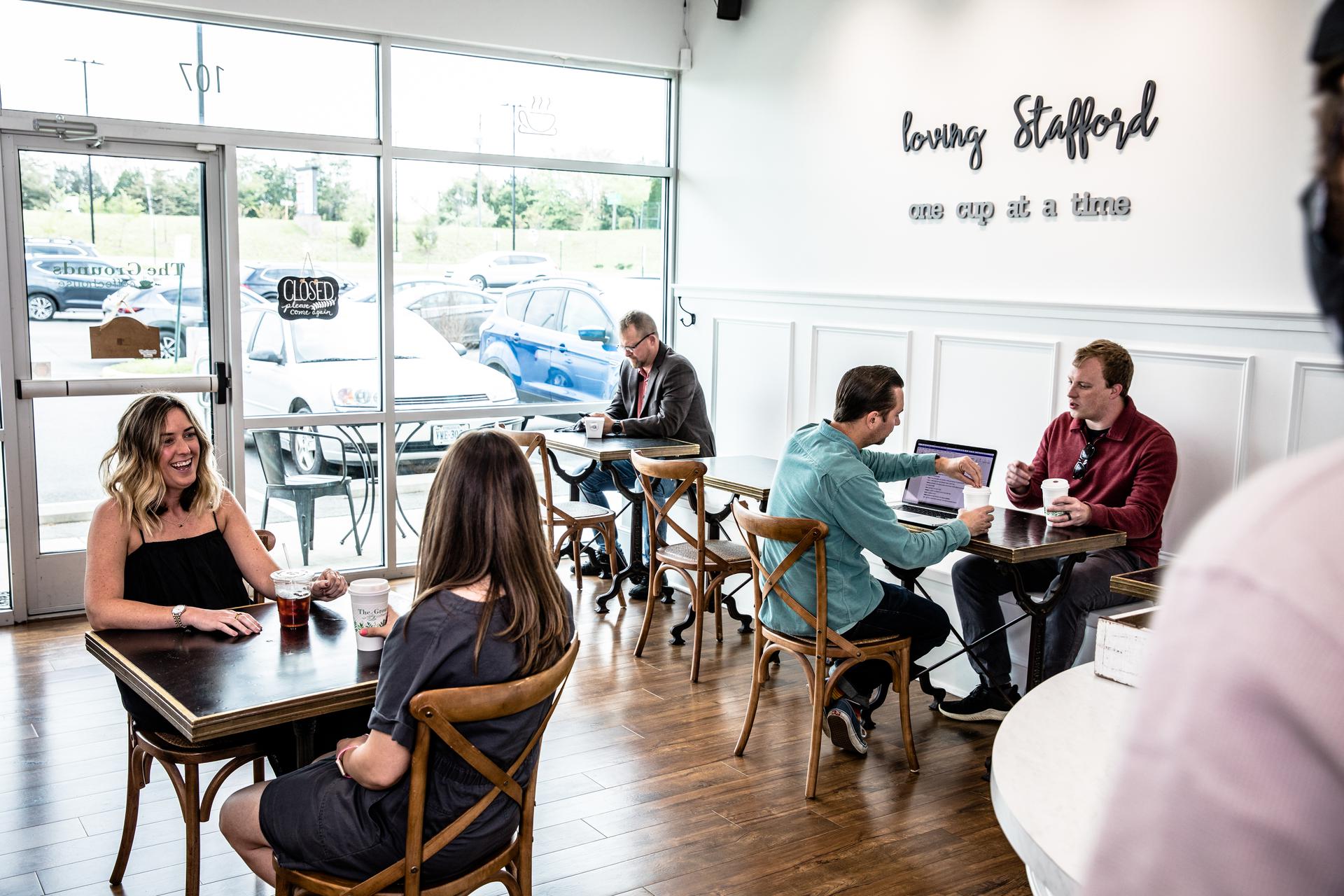 The Grounds Coffeehouse is a locally-owned and independent community gathering place serving exceptional specialty coffee, and craveable, locally prepared light fare and desserts. The owner Debbie Cook and her team loves working with other local businesses and friends, and are proud that their shop features local designers, bakers, businesses, and more!

Jack Rowley, Hartwood District
Mr. Rowley has served on the Stafford EDA board since 2001. He is a local philanthropist with involvement in real estate development management. Jack serves on a number of local boards and organizations including the Vice Chair for the Mary Washington Healthcare Board of Trustees, and the President of Germanna Community College Real Estate Foundation. He has served as a Rappahannock United Way Director for 18 years, past Director for Rappahannock Community Services Board, and is active with the Fredericksburg Host Lions Club. He has a J.D. degree from the University of Baltimore with decades of executive leadership experience in the paper industry. Jack serves on the EDA with special interest in business development and growing the Stafford County economy. He enjoys spending time with family and working with his classic car collection.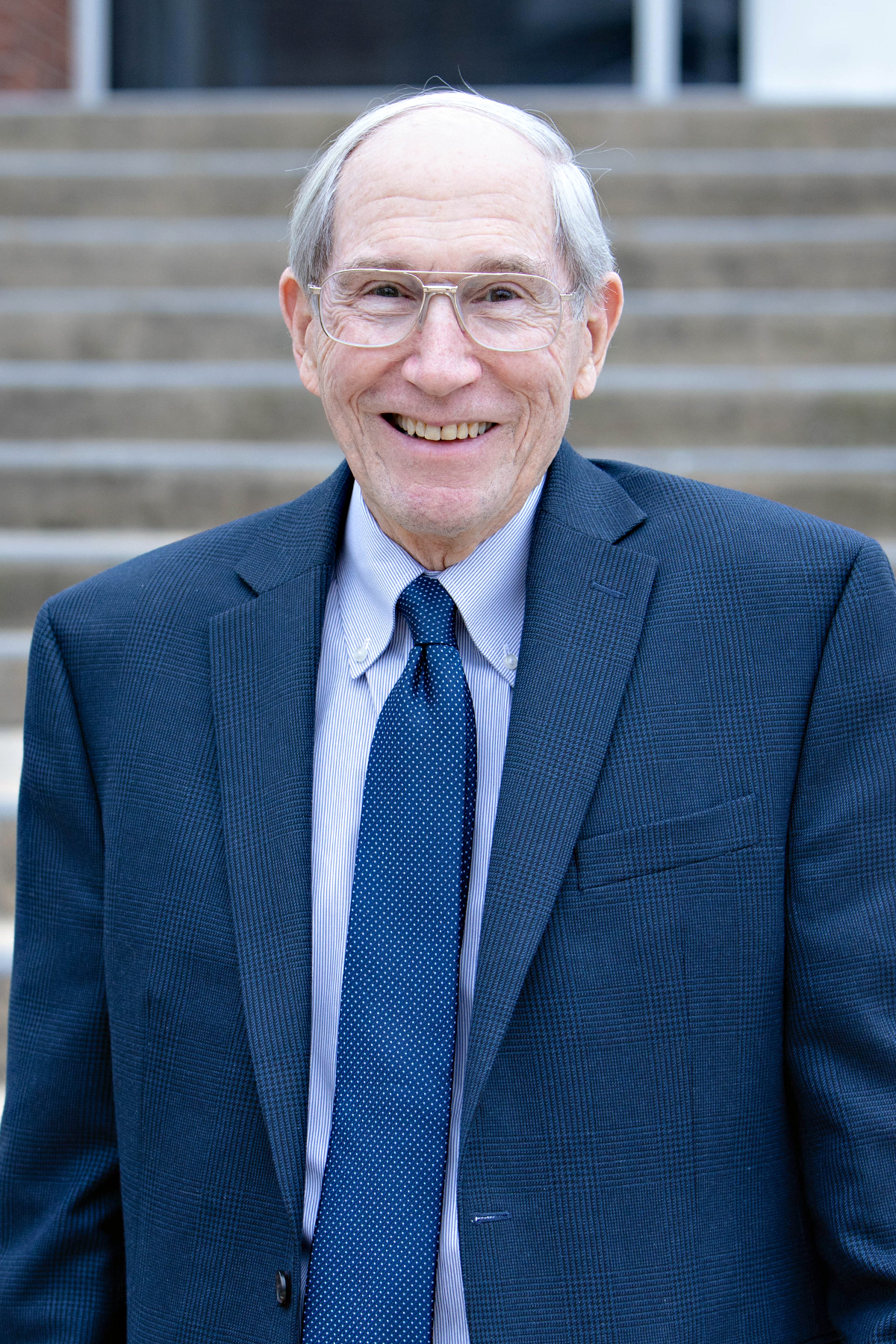 STAFFORD TOURISM HOSTS KAYAK BASS FISHING TOURNAMENTS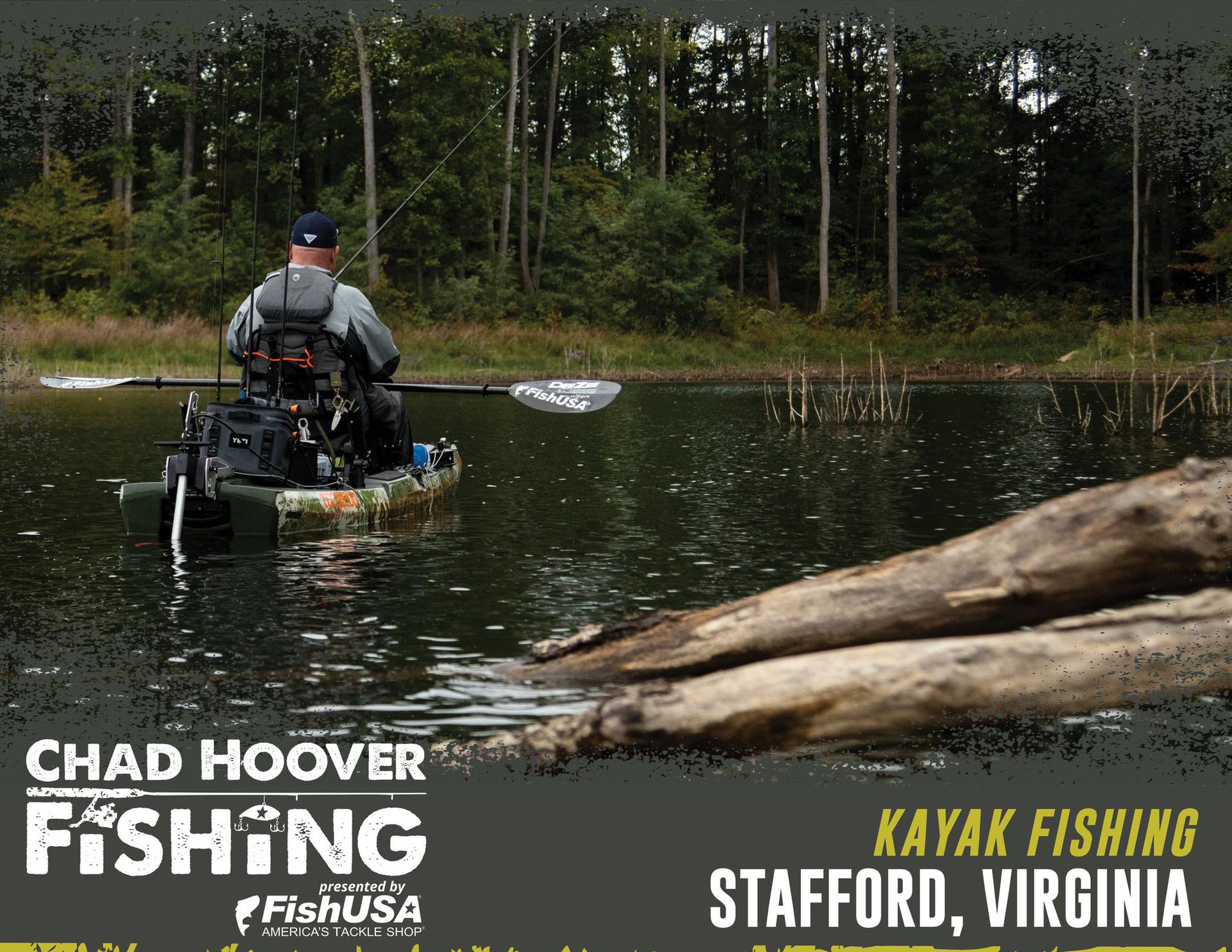 In May, Stafford County Tourism hosted the two back-to-back tournaments for the Kayak Bass Fishing (KBF) Trail Series Potomac River 1 and Potomac River 2. These tournaments reeled in a total of 184 anglers across the east coast and beyond. Anglers were particularly excited to fish in Stafford's Potomac River for Bass, Snakeheads, and Catfish.
KBF Tournament Owner, Chad Hoover says that "Stafford, Virginia is being discovered as a world-class fishery."
WELCOME NEW BUSINESSES & RIBBON CUTTING EVENTS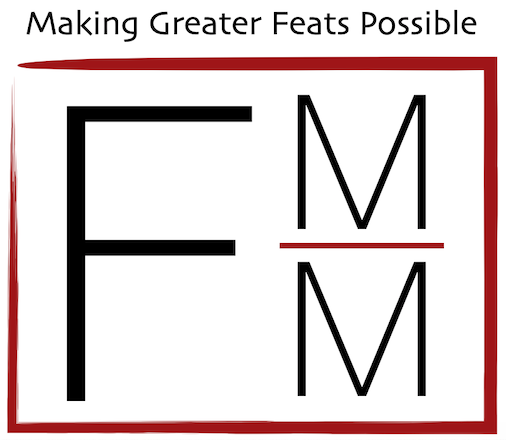 Welcome Force Multiplier Management to the Stafford Business Community! We welcomed this business on May 12, 2021 at their official Ribbon Cutting.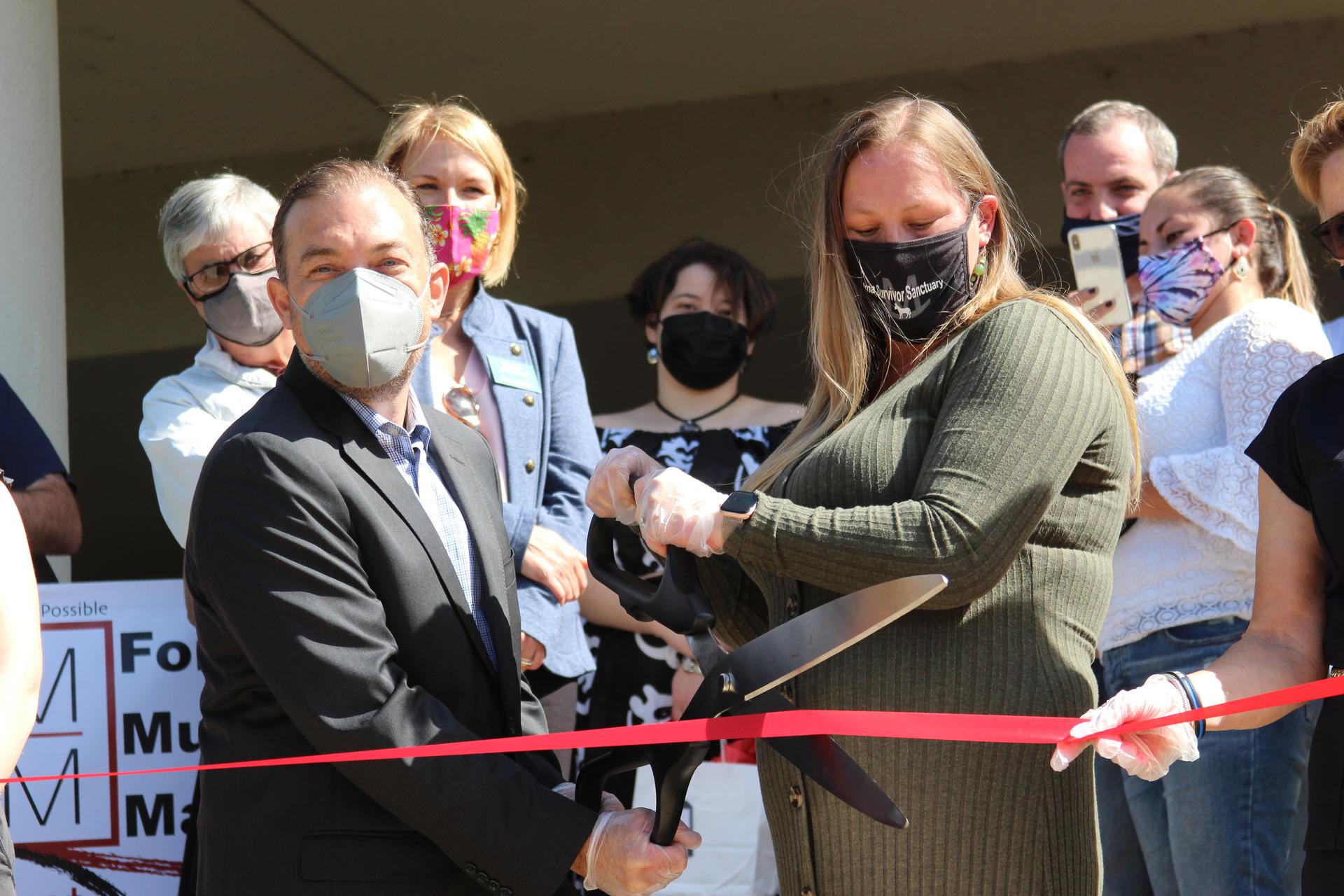 Force Multiplier Management owners, (left) Kurt Riesenburg and (right) Mickey Riesenburg cutting ceremonial ribbon for the launch of their new business.
LOOKING FOR THINGS TO DO IN STAFFORD'S GREAT OUTDOORS?
Stafford County is a pro-business community with an ambitious ecosystem for entrepreneurs, rising cyber and tech investments, and a place with a number of hidden gems to visit. We strive to engage our business leaders, seek out opportunities for new investments, and foster talent development - and share our tremendous community, natural, and cultural resources.