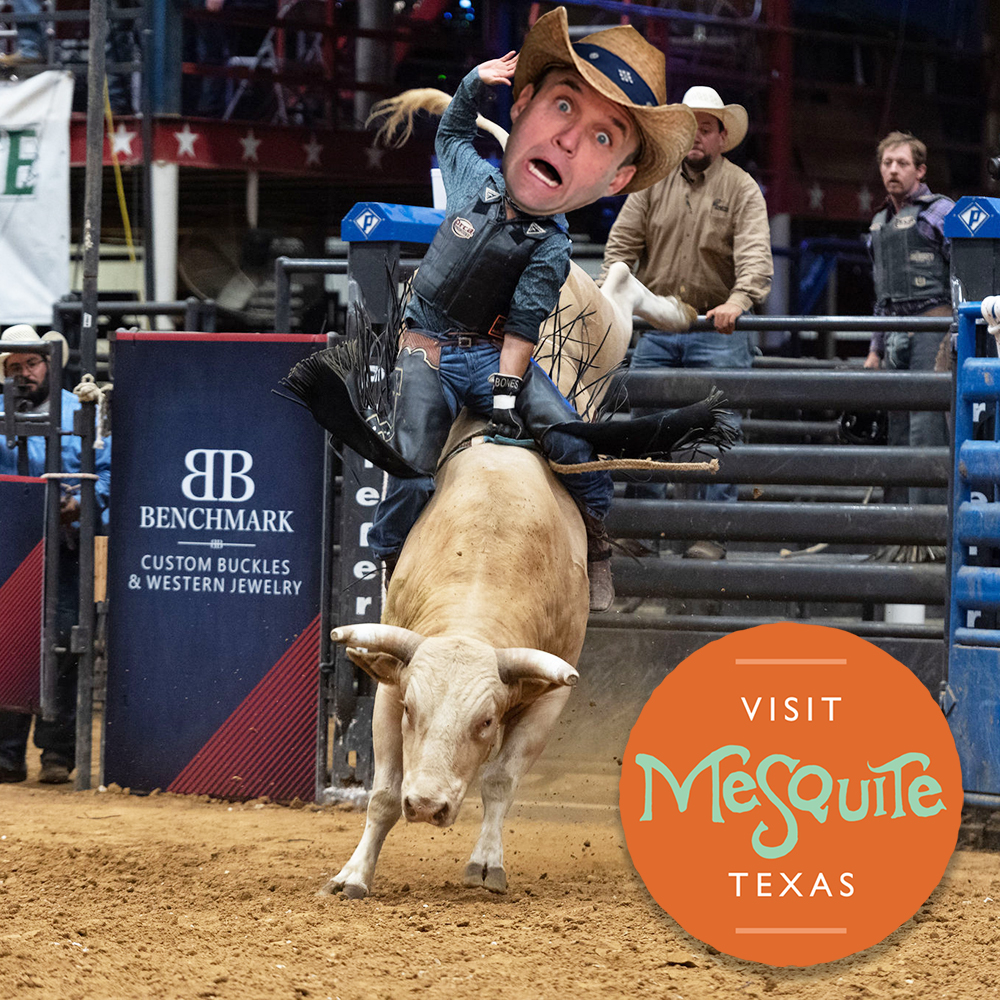 Enter to win a chance for you and three guests to experience the best in dining, lodging, and fun in Mesquite during the Mesquite Winter Classic Rodeo weekend on Dec. 27 - 28. Enjoy four free tickets to watch the Mesquite Winter Classic Rodeo in our exclusive suite on Friday, Dec. 27. This year's rodeo will conclude with a performance from Dallas native Charley Crockett and is sure to be a great, authentic Texas experience to add to your holiday.
While you are visiting the Rodeo Capital of Texas, relax with a free two-night stay in a premier Mesquite hotel. During your stay, let us treat you to the best in Mesquite cuisine with gift cards to our favorite places that have real Texas flavor. You and your guest will also have the opportunity to attend a private dinner with Chet Garner, Emmy Award-winning host of The Daytripper, and a photoshoot for a lifetime keepsake. Top off your trip with free tickets to various Mesquite attractions that are sure to offer a great time and better memories. There are multiple ways to win; we encourage you to do them all to increase your chances.
Here are the ways to enter the Mesquite Weekend on Us Giveaway:
Only entries completed between Dec. 9 – 19 are eligible, with a winner announced on Dec. 20. For terms and conditions, please follow the link below.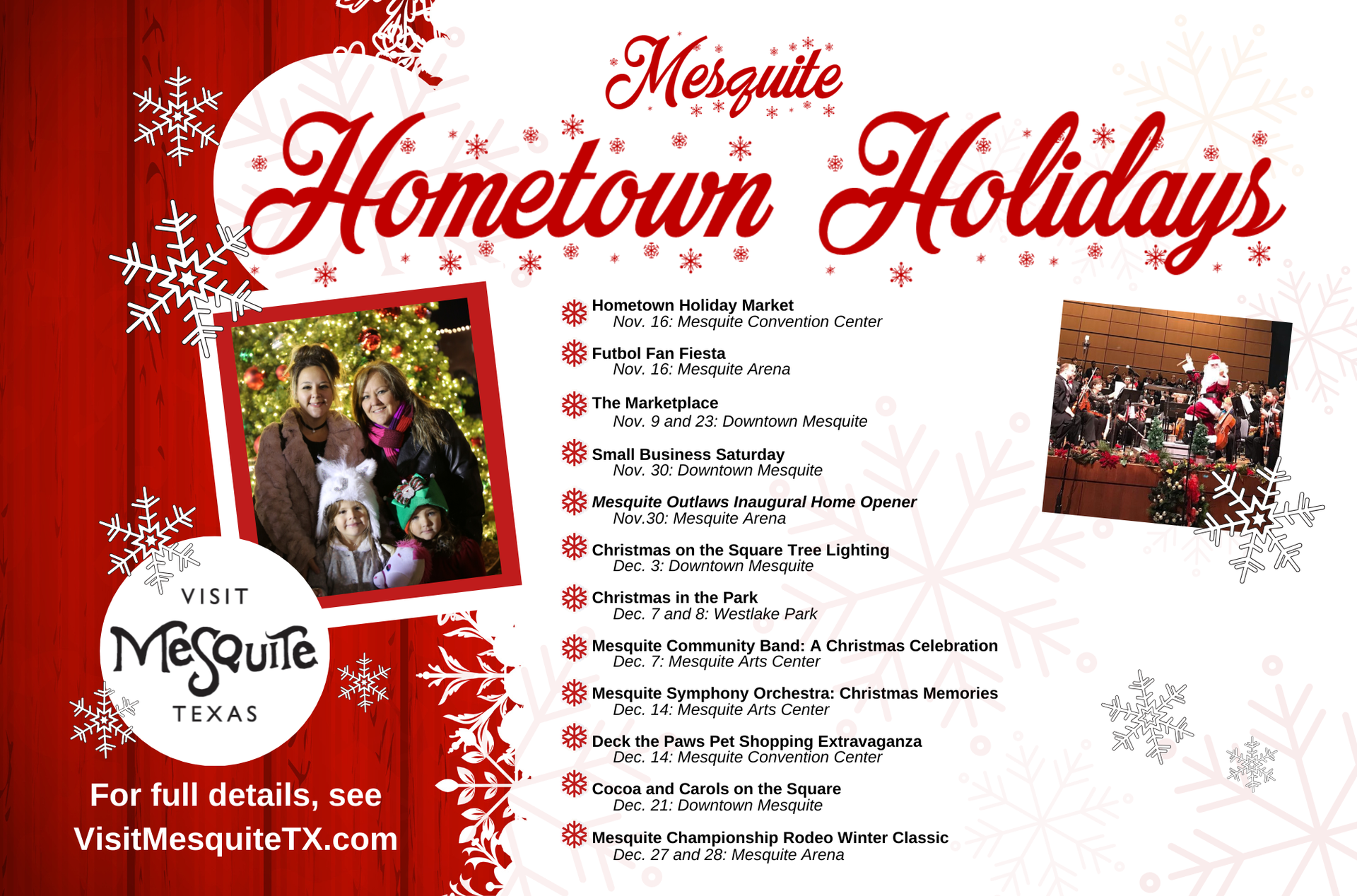 Hometown Holidays in Mesquite
It is almost time to gather your family around to roast marshmallows, wrap gifts, and make memories. Add attending some of the Mesquite Hometown Holidays events to the calendar to create new traditions and spread some holiday cheer. From concerts to hot cocoa, Mesquite is a great place to feel the spirit of the season.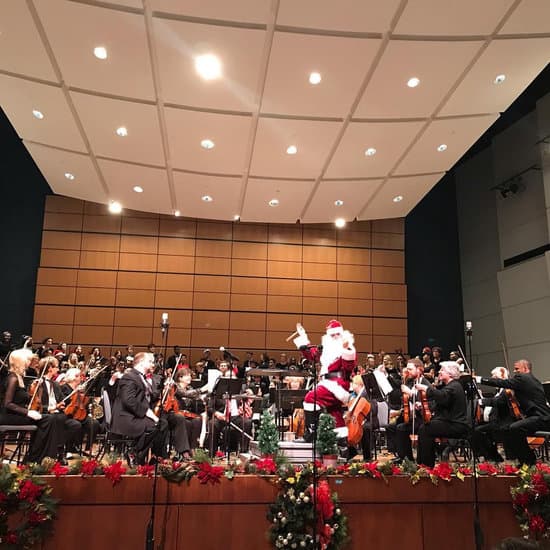 Dec. 14 | Mesquite Symphony Orchestra: Christmas Memories
The Mesquite Symphony Orchestra is excited to bring its annual Christmas concert to the Mesquite Arts Center. This year a 100-person chorus made up of students from Mesquite ISD, including Mesquite High School, North Mesquite High School, John Horn High School, and West Mesquite High School, will join the Symphony. Catch one of the two concerts starting at 5 p.m. and the other beginning at 7:30 p.m.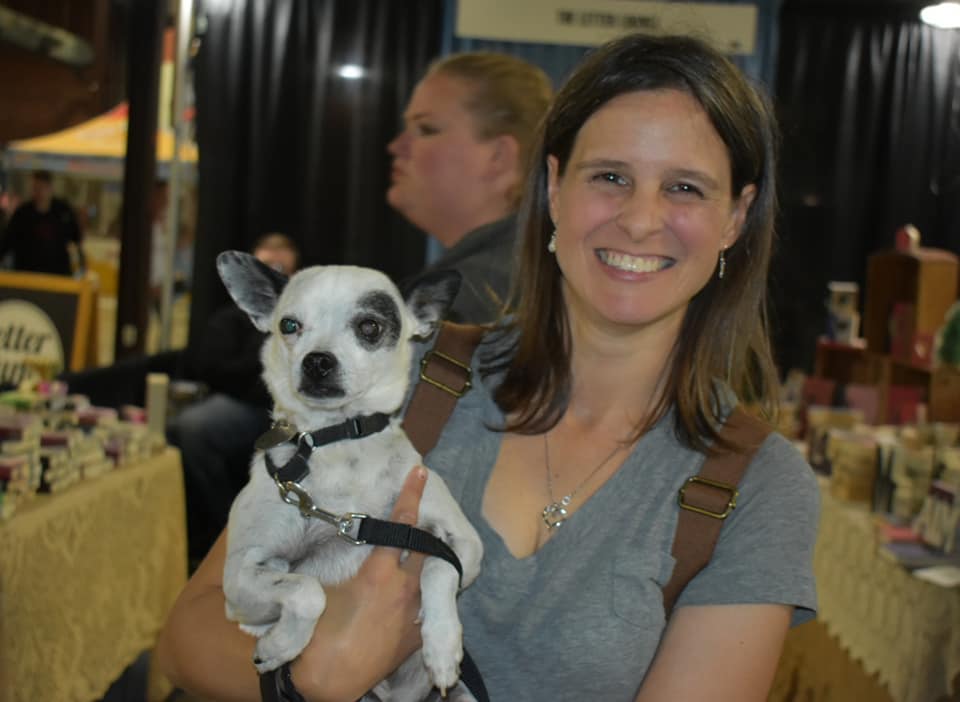 Dec.14 - 15 |Deck the Paws Holiday Pet Expo
The Mesquite Convention Center will be home to the largest holiday festival for animal lovers in North Texas, Deck the Paws. The two-day event includes Christmas fun and tail waggin' holiday shopping and entertainment that benefits local animal rescues. Bring your favorite four-legged family member from 11 a.m. – 5 p.m.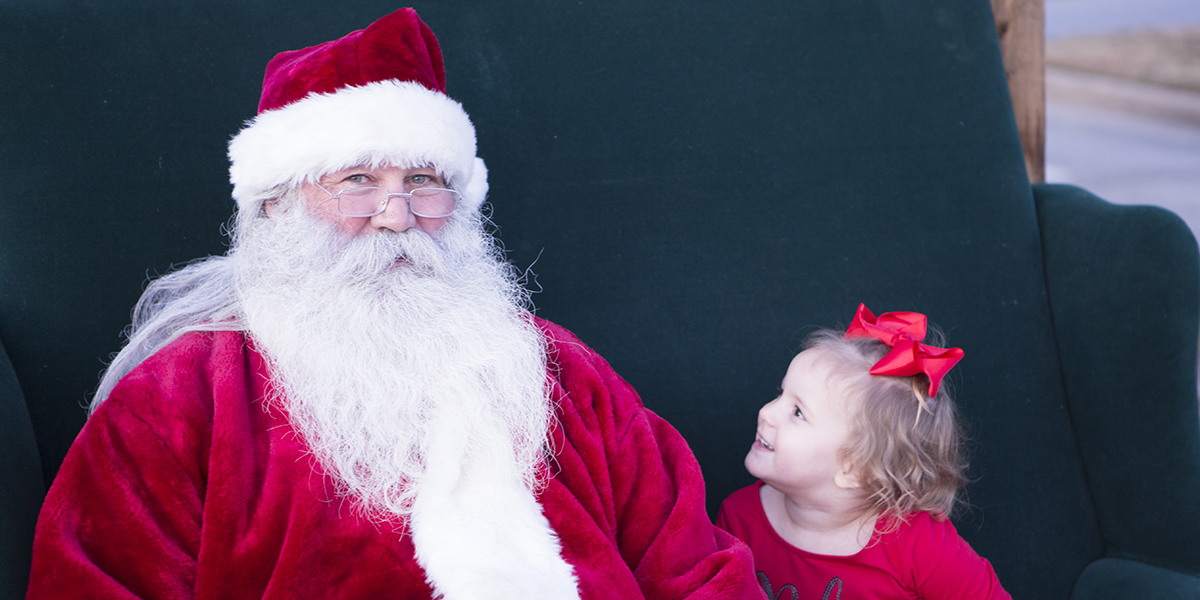 Dec. 7 - 8 | Christmas in the Park
Christmas in the Park is Mesquite's largest annual event to kick off the holiday season. Bring the family for free carnival games, free make-and-take crafts, roasting marshmallows on the yule log, and Mrs. Claus' story time all while enjoying cookies and hot cocoa. Stay for the Christmas parade featuring all your favorite holiday characters. Make your way to Westlake Park for all the festivities from 1 - 7 p.m.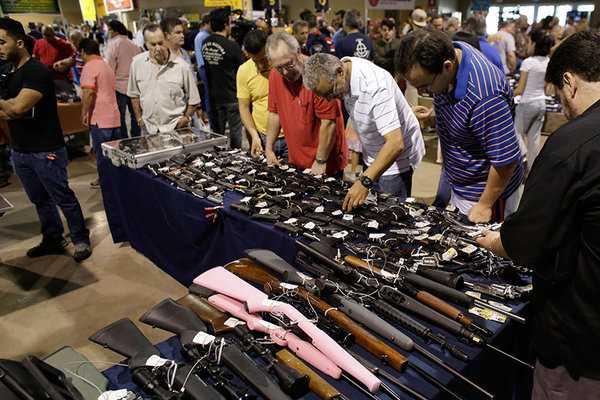 Dec. 14 - 15 | Premier Gun Shows Big Town Event Center
Do not miss the last chance to stock up on your collectible firearms and antiques for the year at the Premier Gun Show. Find the perfect gift for the dedicated hunter in the family. The two-day trade show is from 9 a.m. – 5 p.m. on Saturday and 10 a.m. – 4 p.m. on Sunday.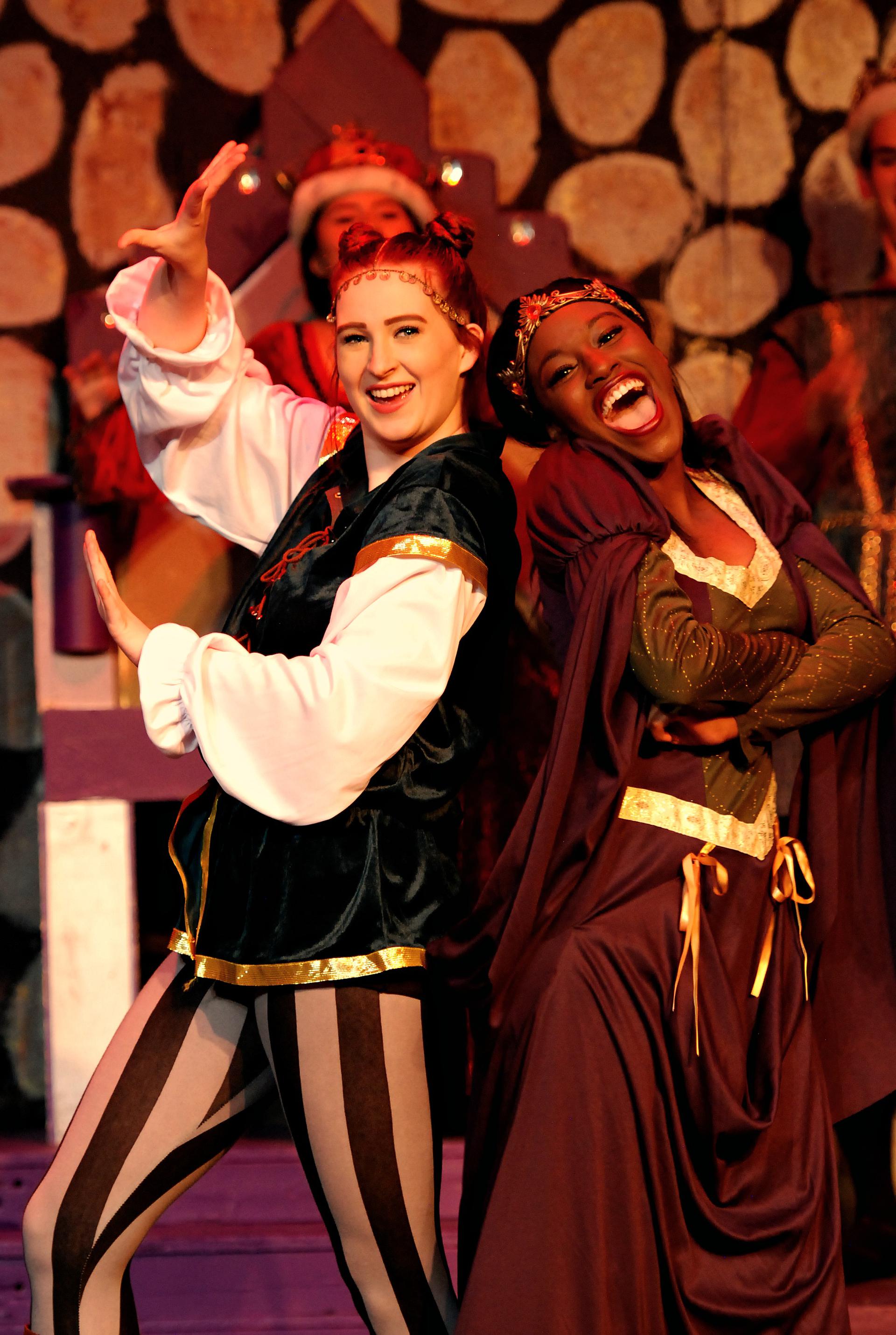 Dec. 6 - 15 | Mesquite Arts Theatre presents FruitCakes
There is still time to catch the moving story of alienation, understanding and reconciliation as the Mesquite Arts Theatre continues its production of FruitCakes. Do not miss your chance to enjoy a heaping helping of holiday warmth and Christmas cheer. Catch performances on Friday and Saturday at 8 p.m. and Sundays at 2:30 p.m.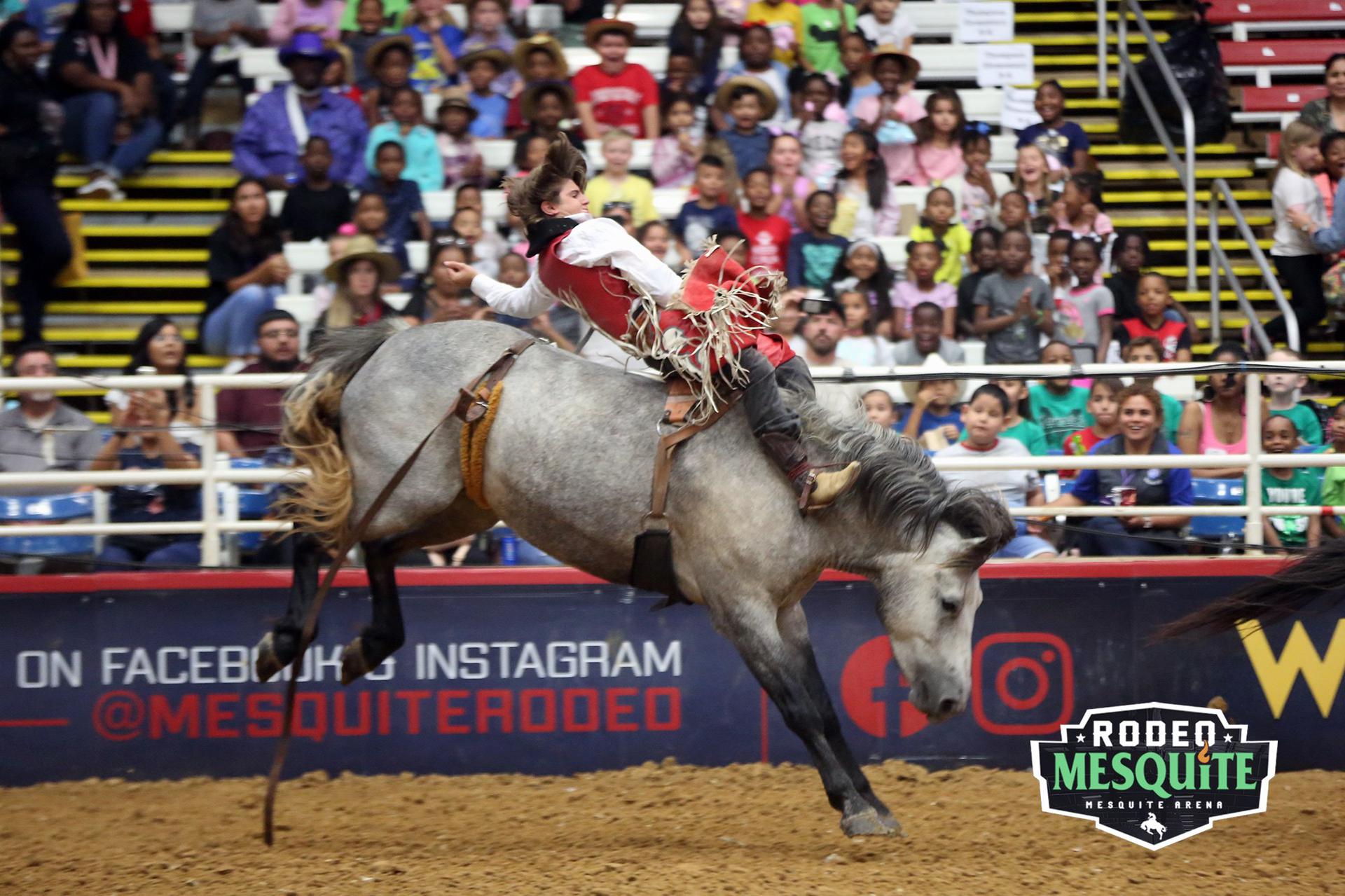 Dec. 28 - 29 | Mesquite Winter Classic Rodeo
Do you have family staying past the holidays? Make more family memories at the Mesquite Winter Classic Rodeo. Enjoy all your favorite rodeo events, Texas barbecue, and more inside the Mesquite Arena. Doors open at 6 p.m., and your favorite cowboys and cowgirls will saddle up at 7:30 p.m. Two exciting additions this year will be the opportunity to attend a Meet and Greet with Chet Gardner of the Emmy Award-winning show, The Daytripper and a performance by Charley Crockett, a Dallas native, singing some Texas Swing/Blues, two-stepping, and gulf coast boogie. Both take place on Saturday night with the Meet and Greet from 6:30 p.m. – 8:30 p.m. and the concert starting after the last rodeo event.
DOWNLOAD THE VISIT MESQUITE TX APP