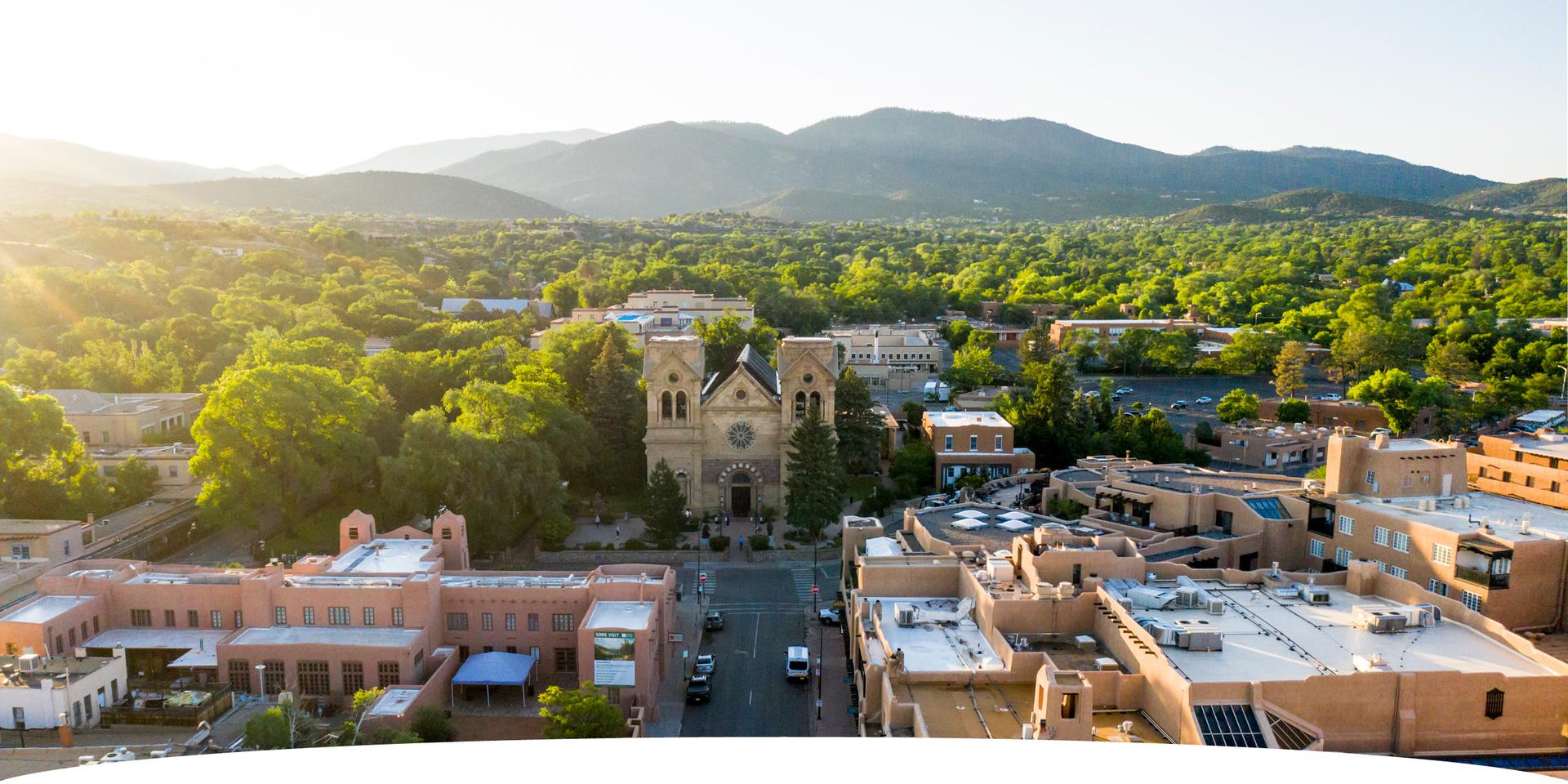 Critical Small Business Resources
During COVID -19
Dear Santa Fe Business Partner,
This is a deeply troubling time as we see and experience the disruption being felt by the hospitality industry nationwide, and especially here at home in Santa Fe. Our country is in the grip of a virus and its impact has touched us all professionally and personally. While we can take some guidance from the past situations we've weathered, the uncertainty of the unknown and the level of upheaval in all aspects of our lives is certainly unprecedented.
We know the level of economic chaos you are experiencing is draining in a time of considerable uncertainty. But what you have built still has a strong foundation, and while it may be put to the test at this time, we know we will emerge on the other side—stronger than ever.
As we traverse through these difficult times together, here are a few helpful resources for our small business community.
The Centers for Disease Control and Prevention has published testing guidelines to help individuals and health care professionals make decisions about who needs to be tested.

Several COVID-19 testing sites have opened in New Mexico, and more are expected to be accessible in the coming weeks. Each of the centers also has different criteria for testing eligibility and different hours of operation, so you should check with both the center and your health care provider before being tested.

If you're feeling unwell or for more information on testing, you can contact the New Mexico Health Department COVID-19 Hotline, which is open 24/7, at 1-855-600-3453. Note that there may be an increased volume of callers, and it may take some time to be connected.
COVID-19 Business Loan Guarantee Program

The New Mexico Economic Development Department (NMEDD) has created a program to assist businesses seeking emergency loans or lines of credit to deal with negative economic impacts from COVID-19. NMEDD can guarantee a portion of a loan or line of credit up to 80% of principal or $50,000. Loan proceeds are flexible and can be used for (and not limited to) the following: working capital, inventory and payroll.

Lenders and borrowers can apply here. Or Download a PDF version of the application.
Contact: Johanna Nelson, Johanna.Nelson@state.nm.us or 505.469.6204
LEDA Zero-Percent Interest Loans
Limited to expenditures for land, building and infrastructure

Can be used for lease abatement or mortgage assistance

Company must be a qualified entity (manufacturer, non-retail service business with more than 50% of revenue generated out of state, or a retail business in a community of less than 15,000 in population)

All loans will be required to provide security equal to the amount of the loan



Contact: Mark Roper, Mark.Roper@state.nm.us or 575.562.0327
If your small business or nonprofit has been impacted, you can consider applying for a loan from the Small Business Administration here. You can locate your local satellite office here.

You can also contact the SBA New Mexico District Office at 505-248-8225 or email disastercustomerservice@sba.gov
If you lost your job or lost income because of the coronavirus pandemic, you may be eligible for Unemployment Insurance benefits. New Mexico has issued an emergency order waiving certain requirements for unemployment insurance to assist workers whose hours have been reduced or who have been laid off because of the COVID-19 public health emergency.

The best way to find out if you are eligible is to apply. If you want help determining your eligibility or completing your application, please contact the New Mexico Department of Workforce Solutions. Keep in mind that the date your application is finished determines when you will begin receiving benefits. You may also reach the department at 877-664-6984.

Unemployment Insurance assistance may apply to employees who were laid off as a result of the impact of COVID-19; workers who are self-quarantined or directed to be quarantined, or who have immediate family who is quarantined; and workers who have their hours reduced as a result of COVID-19.

The stimulus package Congress passed last week expands the amount of unemployment benefits available to every American whose employment status has been affected by the pandemic. This includes ensuring $600 a week in additional UI benefits and a temporary UI program for the part-time, self-employed, gig economy, and other workers excluded from regular UI programs through December 21, 2020.

Congress also passed legislation to provide states with resources and flexibility to offer unemployment benefits to laid-off and furloughed workers, as well as to workers who exhaust their paid leave.
Personal Income and Payroll Tax Extension

New Mexicans now have an extra 90 days to file and pay their 2019 personal income taxes in recognition of the economic hardships many are facing as a result of the COVID-19 pandemic. Taxpayers will have until July 15 to file and pay any taxes due.

The deadline for 2019 corporate income taxes also will be extended until July 15. In addition, the state is extending deadlines for employers to remit withholding taxes.

For more information, please visit the Tax and Revenue Department's fact sheet here.

Emergency Paid Sick Leave and Paid Family Leave (Federal)

The Families First Coronavirus Response Act expands access to emergency paid sick leave to as many as 87 million U.S. workers, and extends paid family leave to ensure that workers can care for their children without sacrificing their paycheck. Many of these workers currently have no paid leave and are being forced to choose between their paycheck, their health, and the health of the people around them. This is a critical step toward protecting families' financial security and mitigating the spread of the coronavirus.

Sick Leave: full-time employees are entitled to two weeks (80 hours) of fully paid time off (up to $511 per day) to self-quarantine, seek a diagnosis or preventive care, or receive treatment for COVID-19

Family Leave: Eligible full-time employees and part-time employees are entitled to 12 weeks of job-protected leave to take care for their children in the event of a school closure or their childcare provider is unavailable due to COVID-19.


Eligibility:
Employees at companies with fewer than 500 employees

State and local government employees and certain federal government employees

Employees who work under a multi-employer collective agreement and whose employers pay into a multi-employer plan
Full fact sheet from House Appropriations here.
For the latest updates from the New Mexico Department of Health, click here.

For the latest updates from the Centers for Disease Control and Prevention, click here.

New Mexico Coronavirus Hotlines:

1-855-600-3453 (Health Hotline - for those who feel ill or have questions about their health)

1-833-551-0518 (General Information Hotline - for those who have non-health questions about resources and the community)

1-866-699-4627 (Hotline for Seniors Citizens - for eligible senior citizens who need assistance with meal or grocery delivery)

1-928-871-6868 (Hotline for Seniors Living on the Navajo Nation)

New Mexico Coronavirus Resource Site, click here.

Resources for Businesses Impacted by Coronavirus, click here.

Resources for Workers Impacted by Coronavirus, click here.

Meal Sites for Children, click here.

Ways You Can Help, click here.