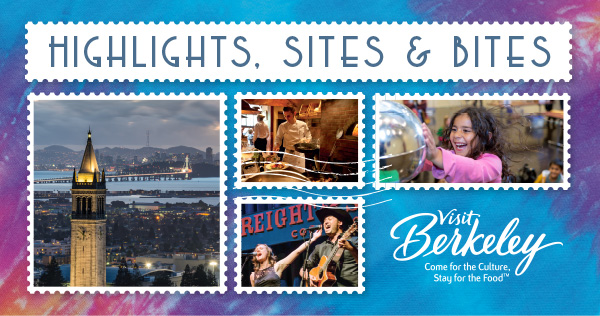 GO LOCAL WITH BERKELEY BUCKS FOR HOLIDAY GIVING

Still sledding through that holiday shopping list? Here's an inspired idea: give local with Berkeley's first-ever citywide eGift card, Berkeley Bucks. They're valid at more than 90 local merchants and restaurants – with many offering exclusive discounts to Bucks cardholders. Plus, the first 100 folks who buy Berkeley Bucks cards valued at $100 or more will receive a $25 bonus card of their own to use through March 31, 2022. Berkeley Bucks are good at any Berkeley business that accepts Master Card and opts-in to the program, and can be redeemed by the cardholder in person, over the phone or via an online store. No apps, downloads or special technology are required. For the updated list of participating merchants, check here. Check out the Berkeley Chamber's Holiday Gift Guide for more local options (many accepting Berkeley Bucks). Visit Berkeley, the Berkeley Chamber of Commerce, Neighborhood Districts and the Office of Economic Development are working together to support Berkeley-based businesses and "keep cash in the community" through Berkeley Bucks. Bayer, Berkeley's largest private-sector employer, is the founding sponsor of the Berkeley Bucks initiative.
THE AIDEN FOR HOLIDAY GUEST LODGING
Looking for a place for visiting friends and family over the holidays? The Aiden by Best Western @ Berkeley is an inspired choice, and even more so as Best Western Rewards® members who stay now through Feb. 6, 2022 at any Best Western® branded hotel in the United States, Canada or the Caribbean will earn double points on every stay, no limit. Best Western's Holiday Gift Guide is a fun seasonal read, too.
CHRISTMAS FEAST AT ZINO? YULE BE GLAD YOU DID!
On Saturday, December 25 from 1pm to 7pm, ZINO Berkeley at the Hotel Shattuck Plaza will serve a Mediterranean-inspired Holiday Buffet with all the fixins, and then some. Herb-roasted turkey. Glazed ham. Artisanal cheeses, fruit mostarda. Discover how cornbread stuffing pairs with Muhammara dip! Reservations recommended via Open Table or by calling the restaurant directly, 510.845.7300.

BERKELEY GETS FIRST IKE IN CALIFORNIA - DIGITAL KIOSKS
The City of Berkeley, Visit Berkeley, and IKE Smart City unveiled the new digital interactive, wayfinding kiosks called IKE (Interactive Kiosk Experience) in downtown Berkeley. Designed to help visitors and residents navigate the City, the partnership brings state-of-the-art technology to the public at no cost to the City or its constituents. The first round of kiosks will be deployed throughout Downtown Berkeley, the Telegraph area, and the Lorin Business District in South Berkeley, with plans to have an active network of up to 31 kiosks throughout the City. IKE is making its debut in California, with Berkeley being the first city to implement the IKE kiosk platform in the state. Each kiosk serves as a free Wi-Fi hotspot and is geo-located, displaying informational listings based on what's in immediate proximity to the kiosk. The kiosks have dual-sided digital touchscreens and are fully ADA-compliant, complete with an engaging suite of interactive applications that drive discovery. IKE is multilingual and includes detailed content listings of local area restaurants, shops, businesses, cultural institutions, events, jobs, and civic resources. Additionally, the kiosks provide access to social services information such as homeless shelters, addiction recovery programs, and food support.
BERKELEY-BUILT FRAMES THE CITY BY DESIGN
The new edition of Berkeley-Built, the online design magazine about the built environment in Berkeley, and things that are made in Berkeley, is now online. And, check out the West Berkeley Design Loop, a group of innovative merchants and shops from Ashby Avenue to Gilman Street. Get in the loop to discover unique furniture, books, building materials, lighting, antiques, and custom decor.
To ensure you receive Visit Berkeley emails, please add VisitBerkeley.com to your address book.
Contact us: 2030 Addison St. #102 Berkeley, CA 94704